To further enhance your awareness, appreciation and understanding of the aquatic environment, scuba diving around Koh Samui and its neighbouring island is an adventure not to be missed.
An attentive, enthusiastic, highly qualified and experienced team of PADI Professionals can provide dive courses and guides for every level of expertise.
You'll be diving from a 35 ft custom built dive speedboat - steering you comfortably clear of the crowds to all the top dive sites in the Gulf of Thailand.
Dive courses
Honored by PADI with their "Outstanding Commitment to the PADI System of Education Award" in recognition of exceeding standards of educational excellence and outstanding customer service. You'll be receiving a level of training, care and attention to detail that will give you all the confidence you need and provide a solid foundation on which to base your future dive experiences
Discover Scuba Diving - 1 day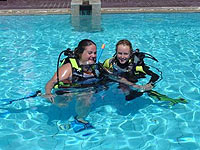 When opting for a PADI Discover Scuba Diving Experience you'll be introduced to diving in a safe and relaxed manner and you can experience scuba diving without committing to a course. You will learn basic dive theory and skills preparing you for 2 open water dives under the supervision of a PADI instructor to a max depth of 12m. Before taking the plunge in open water you also have the option to make a try dive in a training pool or your villa pool to gain additional confidence.
Scuba Diver - 2 days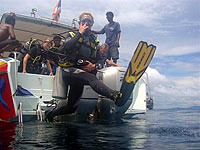 If you want to take an entry level certification course but have limited time, then The PADI Scuba Diver Course is the one for you. The programme is a sub course of the Open Water Course and you'll complete 3 theory sessions, 3 training pool dives and 2 open water training dives over 2 days. Once certified as a Scuba Diver you can dive under the direct supervision of a PADI professional, to a max depth of 12m. Your Scuba Diver certification counts towards the Open Water Diver certification, which can be achieved by completing 2 additional days training at any time.
Open Water Diver - 4 days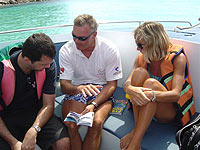 Upon successful completion of the PADI Open Water Diver Course, you will receive your certification card which is internationally recognized and allows you to dive to a maximum depth of 18m with a certified buddy, independently of a PADI professional. The course is designed so that you build your confidence and develop your skills gradually over the 4 days and you earn your certification by completing 5 theory sessions and pool dives and by making 4 open dives.
Adventure Diver - 1 to 2 days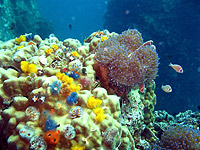 Once you have your Open Water Diver Certification you then have the chance to make Adventure Dives and choose dives in areas that are of interest to you. You may want to try out your underwater camera or check out how you new dive computer really works. Among the list of Adventure dives to choose from are Peak Performance Buoyancy, Multilevel & Computer Diving, Night, Nitrox, Underwater Photography and many more. Once you have completed any 3 Adventure Dives you will have earned yourself the PADI Adventure Diver certification and will be well on the way to the PADI Advanced Open Water Diver certification.
Advanced Open Water Diver - 1 to 3 days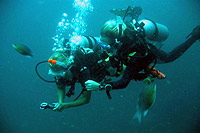 A diver who completes the Deep Dive (from 18m to a max depth of 30m), the Underwater Navigation Dive and any 3 additional Adventure Dives earns the Advanced Open Water Certification. As an Open Water Diver, the 5 Adventure Dives will take place over 2 days, or for those who are already Adventure Divers you are only 1 day from the Advanced Open Water certification.
Rescue Diver - 3 days & EFR - 1 day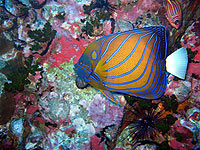 The PADI Rescue Diver course is a pivotal step in expanding a diver's knowledge and experience. Rescue Divers learn to look beyond themselves to consider the safety and well being of other divers. At rescue diver level, students are ready to learn to manage more complex dive emergencies and to apply direct intervention techniques to assist others in emergencies. A challenging but fun course, essential for those planning their own dive excursions. The EFR course teaches people how to provide emergency care for someone in need. The two sections of the course - Primary Care (CPR) and Secondary Care (First Aid) - are medically based, following the same priorities of care used by professional emergency care providers.
Dive Tours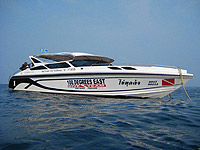 You'll get to the sites ahead of the crowds in safety and comfort. The fast new custom built 35 ft Dive Speedboat is powered by two Yamaha V6 200 HP outboards and carries a maximum of 10 divers in comfort.
The boat is equipped with: first-aid kit, emergency O², life jackets, 2 x life rings, 2 x fire extinguishers, ship to shore radio, GPS, compass, marine toilet, and fresh water shower.
Boat departure is at 08:00 every day, returning at:
-13:30 from Sail Rock/Marine Park
-
15:30 from Koh Tao
All tours include: full equipment rental, accommodation transfers, light breakfast, lunch, soft drinks, towels, and rain coats (rarely required!)
Suunto GEKKO wrist computers are also rented free of charge to certified divers.
You'll be diving in small groups (our maximum group size is just 4) and at sites appropriate to your level of training and experience.
You'll be diving in well maintained, high specification, rental equipment that includes as standard, safety marker buoy, whistle and compass.
If you have friends and family that do not dive but wish to come along to swim and snorkel, we'll ensure they have a great day out above the water while you explore below.
Dive Sites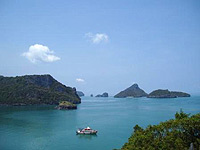 The Gulf of Thailand offers a great choice of dive sites which satisfy the needs of all divers whether experienced, intermediate or absolute beginners. The 3 main dive destinations are: Koh Tao, Sail Rock and the Anthong National Marine Park. The sites are easily accessible from Koh Samui taking from 50 to 90 minutes from departure to arrival. All one day dive trips consist of 2 dives.
Water temperatures average a warm 30 degrees, with good all year round visibility. Only during the Monsoon season, which usually runs from early November to mid December, does visibility and access to the sites become limited.
Koh Tao Dive Sites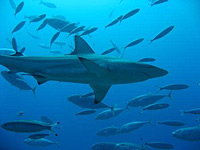 Chumpon Pinnacles
Max depth: 35m
Intermediate to advanced

Chumpon is a group of submerged granite rock pinnacles. You'll reach the site by descending 14 m down one of 2 lines to the top of the main pinnacle which drops off to over 30m. Grey reef sharks are the highlight of the dive here, and whale sharks also frequent the site in season. Traversing across Shark Alley from the main pinnacle over to Barracuda Point, you will be rewarded with huge Giant Groupers and large schools of Chevron Barracuda. You'll finish the dive gliding over a stunning carpet of pink anemones and hopefully catch the schools of Bat Fish on your way to your safety stop. Conditions need to be calm and stable to dive this site.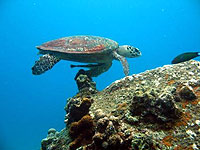 Green Rock
Max depth: 25m
Intermediate to advanced

Green Rock, situated to the north west of the beautiful island of Koh Nang Yuan, is renowned for its stunning swim thru's and overhands. The boulder and rock formations of the site give an amazing underwater topography. The central pinnacle is only 1m below the surface but the site itself drops off to 25m. You will find Blue Spotted Rays nestling under shelves, inquisitive White Eyed Moray Eels and also the infamous Titan Triggerfish, so keep a wary eye.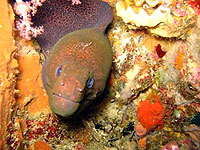 White Rock
Max depth: 22m
All levels of divers

White Rock is found just south of Koh Nangyuan and consists of a main granite pinnacle in shallower water and additional smaller pinnacles located to the west in deeper waters. The site is abundant with Red Breasted Wrasse, Blue Spotted Rays and White Eyed Moray Eels. Keep any eye out for the smaller stuff here, you'll be rewarded with sightings of Nudibranchs, colourful Wart Slugs and smaller Crustacean.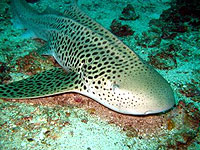 Red Rock / Shark Island
Max depth: 28m
All levels of divers

Called Red Rock by some, to complete the three colours of the Italian flag, (Green Rock, White Rock, Red Rock) and Shark Island by others, as the shape of the rock looks like a shark's fin, this site lies just South East of Koh Tao. The North of the site gives shallower coral gardens to around 12m, whilst further south you reach deeper waters of around 25m and find beautiful boulder formations. Blue Ringed Angel Fish, Butterfly Fish and Parrot Fish are seen in abundance, and if you're lucky you may see juvenile Black Tip Reef Sharks and the occasional Leopard Shark resting on the sand.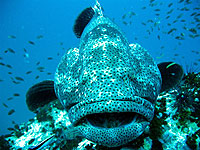 Southwest Pinnacles
Max depth: 30m
Intermediate to advanced

Aptly named as it lies South West of Koh Tao, the main pinnacle at this site lies 5m below the surface. Max depth found at the outer pinnacles surrounding the main rock is approx 30m. Giant Groupers, Chevron Barracuda and Jacks dominate the site and it is also a favourite with the Whale Sharks. Like Chumpon, Southwest is carpeted in the shallows with hosts of Anemones.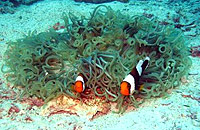 Twins
Max depth: 18m
All Levels of divers & snorkelers

As its name suggests you'll find two distinct groups of pinnacles at this site. Twins is suitable for students and those more experienced. At the shallower pinnacles you will reach a maximum depth of 12m, whilst you can reach 18m at the second pinnacle. White Eyed Moray Eels and Blue Spotted Rays can be found in abundance at both pinnacles, as can Red Breasted Wrasse, Blue Ringed Angel Fish and Banner Fish. Depth and visibility permitting, you cannot visit Twins and not make a pilgrimage to the home of Nemo – just ask any of The Team!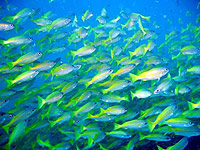 Mango Bay
Max depth: 14m
All levels of divers & snorkelers

Located on the North East coast of Koh Tao, this is one of the best sites for students and those divers who haven't been in the water for a while. The dive begins from the gentle sloping beach and follows the line of the rock along to a maximum depth of 14m. The resident shoal of Yellow Fusiliers, accompanied by Yellowtail Barracuda, Giant Clams and rainbow coloured Christmas Tree Worms, make this a wonderful site to start to any diving adventure.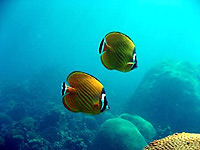 Aow Leuk
Max depth: 12m
All levels of divers & snorkelers

Literally translated as 'Deep Bay' not because of its depth but because of the width of the bay, Aow Leuk is our other favourite site for students and those wanting a gentle potter. Located to the south of Koh Tao, Aow Leuk like Mango Bay starts from the beach. You follow the Western wall out of the bay and find schools of Yellowtail Barracuda, paired Weavers Butterfly Fish and numerous Christmas Tree Worms. Glide up into the shallows on your return to the beach and you may be lucky enough to see the resident turtle and find many Blue Spotted Rays.
Sail Rock Dive Site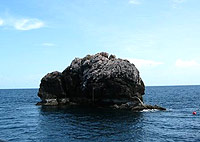 Sail Rock
Max depth: 40m
Intermediate to advanced

A real open water site, Sail Rock can be found equidistant between Koh Phangan and Koh Tao. Not suitable for complete beginners, Sail Rock is considered to be one of the best sites in the Gulf of Thailand. Comprising one large granite rock pinnacle, which stands 15m above sea level and drops off to a max depth of 30m and outer lying smaller pinnacles, it thoroughly deserves the 2 dives we make at the site.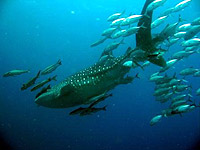 The famous feature of Sail Rock is 'The Chimney' - a large vertical swim through which can be accessed at 5m, 12m and 18m. Inside you will find wonderful clam and coral formations, dancing shrimp and much more.
A full circuit of the whole rock takes approx 35 - 40 minutes & en route you will encounter mountain ranges, cascading coral gardens, vertical walls and delightful gullies. The marine life at Sail Rock abounds, with the smaller coral fish - Blue Ringed Angel Fish, Banner Fish and Butterfly Fish to name a few, found closer to the rock. The larger pelagics - Chevron Barracuda, Whale Shark and Sail Fish - can be found cruising the deep blue, just out from the rock.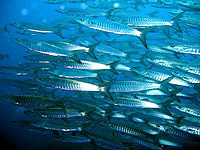 When conditions permit a whole dive can be made at The Secret Pinnacle which lies east of the main rock and delights with Giant Grouper, huge schools of Spanish Mackerel and Big Eyed Trevally. The favourite site of all our dive team, Sail Rock deservedly maintains its position as the No 1 dive site from Samui. If you are lucky enough to be diving with us during April or September - check out our night diving schedule - Sail Rock is a must!
Angthong National Marine Park Dive Site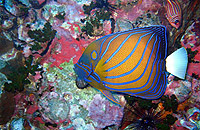 Koh Yippon Lek
Max depth: 20m
All levels of divers & snorkelers

Koh Yippon Lek - translates as "Small Japanese Island". It lies at the northern most edge of the Marine Park and the site provides wonderful shallow caves and swim throughs. Although visibility here is usually less than Koh Tao and Sail Rock, when diving well, you will be rewarded with Banded Seas Snakes, Squid, Cuttlefish and huge Barrel Sponges.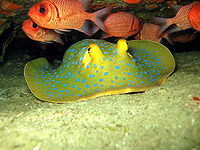 Koh Wao
Max depth: 18m
All levels of divers & snorkelers

Coral fringes the shore line in this picturesque bay, carpeting the rocks from just below the surface to the sandy floor which starts at 5m and reaches 20m further out in the bay. Heading around the western corner of the bay you'll find a series of lovely overhangs and swim thru's – watch out, some are quite narrow. Juvenile Harlequin Sweetlips can be found if you look carefully along with Blue Spotted Sting Rays and Banded Sea Snakes.